Reduce
We believe by reducing the amount of plastic and one time use materials in our homes, that we can make a difference in the amount we pollute our beautiful planet when we work together!

Reuse
At Jarful Refillery we absolutely love when you bring your own jars! Reusing your every day items such as shampoo bottles or mason jars to fill up with any essentials you may need is what we're about!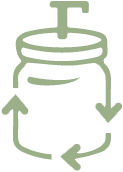 Refill
By refilling up your containers or jars over and over again, we are able to stop the effect that one time use plastic has on our community and our environment.